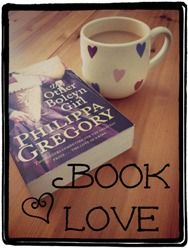 I hope if you've landed on this page it's because you've just read a review sharing some Book Love!
I started this linky so that for those bloggers out there who simply love reading, we could share our recommendations and reviews with each other.

Each linky is open for a month and you are welcome to come back as many times as you like within that month to link up. I aim to write a review every Friday but I know that not everyone devours books in the same way I do!

It would be great if you would use the badge and link back to my latest post if you decide to take part, but this isn't really necessary. I'd just like to know you've joined in so I can read your review!

The code for the badge is here:
<a href="http://catchasinglethought.blogspot.co.uk/2012/10/book-love-fridays.html"target="_blank"><img src="http://i689.photobucket.com/albums/vv256/jmcglynn06/BookLoveBadge_zps0be0c0b8.jpg"border="0"alt="BOOKLOVEBADGE"></a>
Previous reviews:
Coming soon: The Fortune Hunter by Daisy Goodwin
The Water Horse by Julia Gregson
The House We Grew Up In by Lisa Jewell
A Dangerous Inheritance by Alison Weir
Sycamore Row by John Grisham
What Alice Forgot by Liane Moriarty
Vanilla Salt by Ada Parellada
The Vintage Summer Wedding by Jenny Oliver
Half A King by Joe Abercrombie
Hood by Stephen Lawhead
Sparkles by Louise Bagshawe
Sealed With A Kiss by Rachael Lucas
The Hive by Gill Hornby
The Memory Keeper's Daughter by Kim Edwards
The Universe Versus Alex Woods by Gavin Extence
Sisterland by Curtis Sittenfeld
Sweet Dreams, Little One by Massimo Gramellini
The Storyteller by Jodi Picoult
The Blasphemer by Nigel Farndale
The Litigators by John Grisham
Kiss Me First by Lottie Moggach
The Boy From Aleppo Who Painted The War by Sumia Sukkar
Harvesting the Heart by Jodi Picoult
The Declaration Series by Gemma Malley
The Husband's Secret by Liane Moriarty
The Distant Hours by Kate Morton
The Pirate's Daughter by Margaret Cezair-Thompson
The Detective's Daughter by Lesley Thomson
Wife in the North by Judith O'Reilly
The Patchwork Marriage by Jane Green
The Shoemaker's Wife by Adriana Trigiani
The Pact by Jodi Picoult
The Glassblower of Murano by Marina Fiorato
Labyrinth by Kate Mosse
Stuck by Oliver Jeffers
Divergent by Veronica Roth
Life of Pi by Yann Martel (review for Duck Egg Book Club)
The Bellini Card by Jason Goodwin
Reading Lolita in Tehran by Azar Nafisi
The Snow Child by Eowyn Ivey (review for Duck Egg Book Club)
Gone Girl by Gillian Flynn
I Heart London by Lindsey Kelk
The Queen's Confidante by Karen Harper
The Adulteress by Noelle Harrison
Tideline by Penny Hancock
The Hunger Games by Suzanne Collins
The Venetian Contract by Marina Fiorato
Set in Stone by Catherine Dunne
Lizzy Harrison Loses Control by Pippa Wright
The Girls' Guide to Homemaking by Amy Bratley