The Queen's Confidante by Karen Harper
The War of the Roses may be over, but the throne is far from safe...
This is the first book of Karen Harper's that I've read and I made the mistake of reading the 'about the Author' section before starting. I have to say, despite knowing I shouldn't, finding out that she was American put a slight taint on the book to start with. I was expecting her to have made everything very twee and sweet and...well...stereotypical.
I do think there were some phrases which were probably not of the time (having read a fair number of historical fiction books) as they seemed quite modern...although she may be right, I'm not an expert by any stretch of the imagination and the spelling is Americanised which always gets on my nerves when a book is based in the UK but to be perfectly fair my pre-conceptions were entirely misplaced as I really quite enjoyed this book.
Set in 1501, the story is about Varina Westcott, a candle maker who is summoned to the palace in order to make secret effigies for Queen Elizabeth of her dead brothers (the princes in the tower) and two children she has lost. Varina and the Queen find some common ground having both recently lost children and Varina turns confidante for the Queen. When the newly married Prince Arthur dies in Wales, Varina is given the task of travelling there and finding out exactly what happened.
Karen Harper has created a murder mystery out of some very well known Tudor events and whilst I was sceptical to begin with (it all seemed a bit too fanciful...would the Queen really have sought out a lowly candle maker?) I did actually find the story enjoyable. The benefit of throwing this particular storyline out there was that it offered another perspective as to what may have happened. She has mixed real-life people well with fictional ones and raises some interesting points. The story of the missing princes in the tower is a well known one, however I'd never given a thought to the idea that Prince Arthur may have been murdered and not just died from natural causes given that he was known to be quite sickly.
The story is told from both Varina and Queen Elizabeth's point of view and it flits between the two. If I'm honest, I found this unnecessary and would have enjoyed reading the story from just Varina's perspective but I can see why she has added the extra level in as it allows us some insights into the royal marriage which we wouldn't have otherwise seen.
I did also enjoy that this wasn't a run of the mill story about the Tudor dynasty. I learned some new and interesting facts about candle-making and the uses of wax and it's importance in the era.
If you enjoy historical fiction I would recommend giving this a go. Having seen other reviews on Amazon it would appear this perhaps isn't one of Karen Harper's better novels so I am planning on trying another of her books in the New Year.
Currently Reading
A Casual Vacancy by J K Rowling
My linky is looking a bit lonely this month, do join up if you've written a review (new or old!) or just leave a comment if you've got any book recommendations!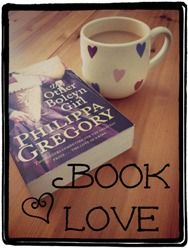 <a href="http://catchasinglethought.blogspot.co.uk/2012/10/book-love-fridays.html" style="margin-left: 1em; margin-right: 1em;" target="_blank"><img alt="BOOKLOVEBADGE" border="0" src="http://i689.photobucket.com/albums/vv256/jmcglynn06/BookLoveBadge_zps0be0c0b8.jpg" /></a>