The Adulteress by Noelle Harrison
Every house has its secrets...
You may have noticed I didn't post a Book Love Friday post last week. Not only was I having a really busy time but I'd also really struggled to get into this book.
Whilst beautifully written the start is very slow moving, with lots of hints that something big and mysterious has happened to the characters but not much else happening plot-wise.
The story is written from two viewpoints. We first meet Nicholas, a man who has escaped to a run down house in Cavan after his wife confesses to cheating on him. Whilst there, struggling to master his emotions and do up the house, he senses a spirit in the house. This presence is June Fanning, a lady who used to live in the house during the second world war and who's spirit has been unable to depart due to 'one regret'. She asks Nicholas if she can tell him the story of An Adulteress. Of course, this is the last thing that Nicholas wants to hear about given his wife's recent behaviour!
We then follow the two storylines with each chapter jumping between the two characters.
I tried to explain the story to my Other Half and failed massively as it quite complicated with each character following their own journey and revealing secrets whilst being quite deeply interlinked with each other. So...I won't try and do it here either! For both Nicholas and June we find sad, touching stories of personal hurts and, I think, the heart of the story is what 'being loved' really means.
Suffice to say this is a beautifully written, serious chick lit novel. I didn't expect the story to turn out as it did and was pleasantly surprised with the ending. It was my first time reading a Noelle Harrison book and I will certainly be keeping my eye out for her other books in the future.
That's not much of a review I know but I can't begin to explain the storyline without giving away the bigger secrets!
Currently Reading:
The Queen's Confidante by Karen Harper
As always, if you've written a book review I would love to link up below and share some Book Love. Or if you just want to leave a comment recommending a great read, please do so!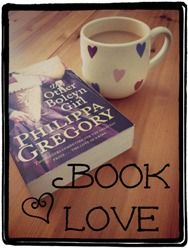 <a href="http://catchasinglethought.blogspot.co.uk/2012/10/book-love-fridays.html" style="margin-left: 1em; margin-right: 1em;" target="_blank"><img alt="BOOKLOVEBADGE" border="0" src="http://i689.photobucket.com/albums/vv256/jmcglynn06/BookLoveBadge_zps0be0c0b8.jpg" /></a>